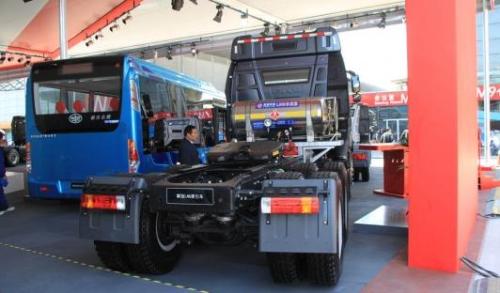 The four Valin LNG heavy trucks that participated in the "Hualong Xingma LNG Heavy Truck National Tour" event returned to Maanshan recently. The return of four "heroes" marked the victory of the national tour event.
In this national tour event, Valin has carefully selected four LNG heavy trucks that are popular among users in the market: one Xingma Kama series 6×4 high-top tractor, one Xingkai Ma series 6×4 flat top Mixer truck, one Hualing heavy truck series 4×2 flat top tractor, one Hualing heavy truck series 6×4 tractor; three tractors each equipped with two 450L gas tanks, and one mixer truck equipped with a 450L gas tank One; The powertrain selects the most mature domestic products such as Weichai, Shangchai and Hangfa.
It is understood that this tour will start on August 25 and end on December 10, lasting more than three months, after Anhui, Henan, Shanxi, Hebei, Tianjin, Liaoning, Shandong, Jiangsu, Guangdong, Fujian, Jiangxi and Hunan. Guizhou Province, Guizhou Province, Yunnan Province, Sichuan Province, Chongqing Municipality, Hubei Province, Zhejiang Province and other 18 provincial-level regions have traveled nearly 30,000 kilometers. Holding user forums and meeting meetings for more than 30 times, product promotion meetings for more than 10 times, distributing more than 30,000 promotional materials, attracting more than 10,000 users to visit and participate in the conference, which has brought the distance between manufacturers and users closer. To convey to customers and friends such a market information: Valin gas is coming!
The exhibition tour received strong support from dealers and supporting enterprises around the country. Dongfeng Cummins, Weichai Power, Hande Axle and other supporting companies actively cooperated with each other. They selected special personnel to track and assist in the exhibition and provide services, and expanded the Hualing heavy trucks in North China. With the influence of the Central Plains region, local users experienced the charm of Hualing Heavy Truck more fully and truly. During the tour, in the provinces of Hebei, Shanxi, Henan, and other major provinces, local dealers held numerous test drives. The bumpy and bumpy mountain roads in these areas also test the excellent climbing performance and smoothness of Hualing heavy trucks in bad road conditions. In logistics provinces such as Fujian and Guangdong, users also tested Valin's LNG heavy trucks. Many users said that Valin's natural gas vehicles have great horsepower and good stability. The more they can show their superior quality under harsh road conditions!
According to Xue Yongchang, general manager of Hualing Marketing, natural gas heavy trucks, especially LNG products, are the top priority for Hualing Xingma's future product promotion. The LNG heavy truck tour is to promote our LNG products to customers across the country. The new trend of natural gas heavy trucks is a new and important opportunity for domestic heavy truck companies, and this new opportunity has already begun. We hope to seize this rare opportunity to make Hualing Xingma's natural gas products bigger and stronger. Become a strong brand in the country.
Sheet metal roll formers are required to produce mainly roofing sheets,floor deck,and wall sheets etc, so we will show in this category some of our sheet metal roll formers,like roof sheet roll forming machine,standing seam sheet roll forming machine, floor decking roll forming machine and boltless wall panel roll forming machine etc.
Floor Deck Roll Forming Machine
Floor Deck Roll Forming Machine,Roof Panel Forming Machine,Floor Roll Forming Machine,Roofing Sheet Manufacturing Machine
Botou Kaiyite Cold Bending Machinery Co.,Ltd. , http://www.chinacoldbendingmachinery.com